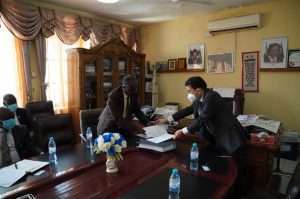 On Friday, September 10th 2021, the Senior Management Committee of the University of Juba headed by Acting Vice-Chancellor Professor Robert Mayom Deng held a meeting with H.E. Hua Ning the Chinese Ambassador to South Sudan.
In the meeting, Prof. Robert and the senior management members welcomed the visiting Chinese Ambassador who has come to hand over the certification of a financial donation of USD 20,000 to the University of Juba so that the "Chinese Ambassador Award" is established. This is the first ever award funded by a diplomatic mission in Juba.
The award aims to support the disadvantaged students and reward University of Juba staff and the best students with excellent performance.
H.E. Hua Ning, the Ambassador paid his respects to the lecturers of the University for their dedication and perseverance.
Today, the People's Republic of China is celebrating 37th Teacher's day. He reiterated that human resource is the most valuable asset of a country. China has been implementing the "strategy of invigorating China through science and education" since 1995, cultivating millions of young talents.
He hoped that the younger generation of South Sudan will integrate lofty ideals with practical work through diligence in their academic studies, shouldering the great responsibility to serve the country and people.
Source: Bek Dhuorjang Chol.