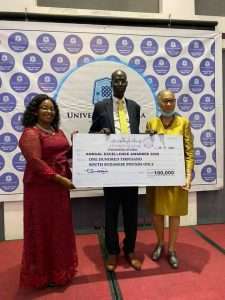 On the 15th of May, 2021, the University of Juba awarded sixteen staff for their outstanding job performances in the past years. The 2020 Annual Award for excellent performance and services delivery was supposed to be celebrated in 2020, but the coronavirus pandemic affected its celebration since large gatherings were prohibited.
The Annual Award Ceremony was hosted by the Vice-Chancellor University of Juba, Prof. John Apuruot Akec at Africa Palm Hotel-Juba. The event was attended by other top administrators of the University like Deputy Vice Chancellor for Administration and Finance, Prof Robert Mayom Deng, and Registrar for Academic Affairs, Prof. Mairi Blackings, Registrar for Academic and Finance Dr. Moses Bojoi, and Dr. Milton Milingasuk Lado, Director for International Cooperation and Alumni Affairs.
The Annual Award for excellent services is the first of its kind being organized by the University since its establishment, and as such, the University is going to continue to hosting such events in order to promote effective and excellent work among the staff of the University.
The Vice-Chancellor appreciated the staff for their hard work and excellent service delivery, and he further encouraged them to be leaders in their own spaces.
"Be a leader in your space."-Prof. John A. Akec-Vice Chancellor University of Juba.
The awardees include; Dr. Angelina Mattijo Bazugba, Director for National Transformational Leadership Institute (NTLI), Dr. Rebecca, Dean-School of Journalism, Media and Communication (SJMC), Dr. Pauline Riak, and many other staff of the University of Juba.